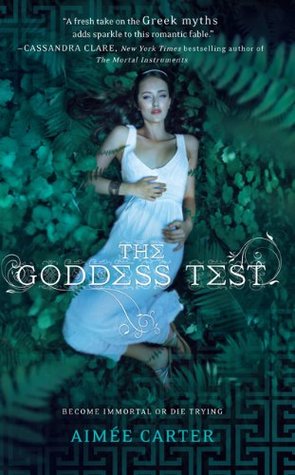 The Goddess Test
Aimee Carter
Published April 19th 2011
Harlequin Teen
297 Pages
Synopsis:
Every girl who had taken the test has died.
Now it's Kate's turn.
It's always been just Kate and her mom – and her mother is dying. Her last wish? To move back to her childhood home. So Kate's going to start at a new school with no friends, no other family and the fear that her mother won't live past the fall.
Then she meets Henry. Dark. Tortured. And mesmerizing. He claims to be Hades, god of the Underworld – and if she accepts his bargain, he'll keep her mother alive while Kate tries to pass seven tests.
Kate is sure he's crazy – until she sees him bring a girl back from the dead. Now saving her mother seems crazily possible. If she succeeds, she'll become Henry's future bride and a goddess.
If she fails…
My Thoughts:
This book was a re-read for me, when I first read it I was 16 and deemed this book as the best book ever written. Reading it now at 19, I think it was very good, not the best book ever written but still a lovable, fun, entertaining, cute read.
I absolutely love Greek mythology and I have read quite a bit of books on mythology but this one has to be my favorite. I have always loved the Persephone myth, I just loved how it explained the seasons and the love of a mother, so I was excited how Aimee carter would put a spin on the myth and make it her own and dammit she did an amazing job!
I loved Henry and Kate I thought together they were so sweet I also loved the twist behind Henry and Persephone, and I felt bad the she did not love him as much as he loved her. And every time he talked about her my heart would break little bit, I could feel the pain and it made me love him even more, I'm a sucker for unrequited love.
I loved how selfless Kate was! If it were me I would never give up half of my life to someone who tried to hurt me, but that is just one reason why I loved her so much. She is such a strong character she sticks up for everybody, and sees the wrongs when everybody was content to just look past it. And she is committed, once she makes up her mind she doesn't give up and that was one trait that I absolutely, wholeheartedly admired. Also the loved the relationship between Kate and her mother Diana.  It was heartbreaking and sweet, that I didn't want Diana to die. I kept hoping that Henry would just make her well again and her and Kate could go back to the life that they lived before.
I really enjoyed this book, not as much as the first time but I'm looking forward to re-reading the rest of the books in this series and finding out if any of my opinions have changed over the years. I recommend this book for anyone but especially for those who love Greek mythology.
Favorite Quote:
"Whatever obstacles you face, remember you can get through anything if you want to badly enough."