This a weekly meme held on Tuesday's that was created by Should Be Reading
Here are the rules:
• Grab your current read
• Open to a random page
• Share two (2) "teaser" sentences from somewhere on that page
• BE CAREFUL NOT TO INCLUDE SPOILERS! (make sure that what you share doesn't give too much away! You don't want to ruin the book for others!)
• Share the title & author, too, so that other TT participants can add the book to their TBR Lists if they like your teasers!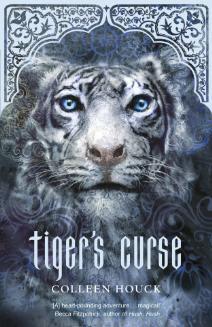 Passion. Fate. Loyalty.
Would you risk it all to change your destiny?
The last thing Kelsey Hayes thought she'd be doing this summer was trying to break a 300-year-old Indian curse. With a mysterious white tiger named Ren. Halfway around the world. But that's exactly what happened. Face-to-face with dark forces, spellbinding magic, and mystical worlds where nothing is what it seems, Kelsey risks everything to piece together an ancient prophecy that could break the curse forever.
Tiger's Curse is the exciting first volume in an epic fantasy-romance that will leave you breathless and yearning for more.
Teaser:
He looks like a runway model. How in the world am I going to be able to reject that? The world is so unfair. Seriously, it's like turning Brad Pitt down for a date. The girl who could actually do it should win an award for idiot of the century.
Leave your TT links below!