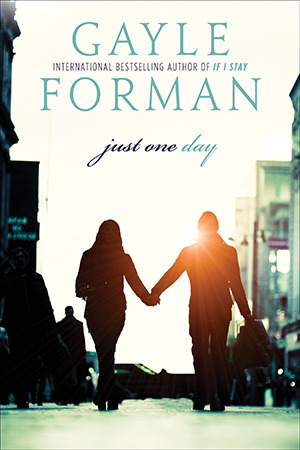 Just One Day
Gayle Forman
Published August 20th 2013 by Speak
400 Pages
Synopsis:
Allyson Healey's life is exactly like her suitcase—packed, planned, ordered. Then on the last day of her three-week post-graduation European tour, she meets Willem. A free-spirited, roving actor, Willem is everything she's not, and when he invites her to abandon her plans and come to Paris with him, Allyson says yes. This uncharacteristic decision leads to a day of risk and romance, liberation and intimacy: 24 hours that will transform Allyson's life.
A book about love, heartbreak, travel, identity, and the "accidents" of fate, Just One Day shows us how sometimes in order to get found, you first have to get lost. . . and how often the people we are seeking are much closer than we know.
The first in a sweepingly romantic duet of novels. Willem's story—Just One Year
My Thoughts:
I loved this book! This book made me want to travel and see the world, and I connected with it so much, I just wish I had it when I was starting college.
This book definitely has a lot of mixed reviews, but so does every book. But what I realized when I was scrolling through the reviews was that, a lot of people went into this book thinking it was a romance novel and it's not. It's a boom about self discovery, that has romance in it.
Initially I went into it thinking I was going to read a cute, sweet romance novel about traveling the world. But what I got was a story about a girl trying to find herself, it wasn't what I expected but God, it was exactly what I needed.
Allyson was lost, so lost that she didn't even know. It took getting her heart broken and the fraying of the only friendship she ever had, to realize it. I loved watching her grow, stand up for herself, and gain confidence.  I loved that even though I was expecting a happy, clichéd ending, what I got was a happy, content, and confident Allyson, who realized she didn't need anyone to make her happy, because finally she actually was. That's probably why I love the end so much. She didn't need him anymore.
Willem showed her how to be brave and confident, and I loved him for that. But when he was gone Allyson forgot how to be the girl she was when she was with him. In the end though, it was heartache that made her realize it was time to stand up for herself and grown. And I was glad that I got to follow her on her journey.
Just One Day is about self discovery, friendship, love, heartbreak, and life. It's one of those books that sticks with you.
Favorite Quote:
Part of me knows one more day won't do anything except postpone the heartbreak. But another part of me believes differently. We are born in one day. We die in one day. We can change in one day. And we can fall in love in one day. Anything can happen in just one day.