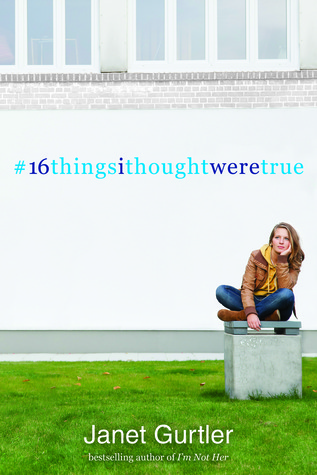 #16thingsithoughtweretrue
Janet Gurtler
Published March 4th 2014 by Sourcebooks Fire
283 Pages
Synopsis:
Heart attacks happen to other people #thingsIthoughtweretrue
When Morgan's mom gets sick, it's hard not to panic. Without her mother, she would have no one—until she finds out the dad who walked out on her as a baby isn't as far away as she thought…
Adam is a stuck-up, uptight jerk #thingsIthoughtweretrue
Now that they have a summer job together, Morgan's getting to know the real Adam, and he's actually pretty sweet…in a nerdy-hot kind of way. He even offers to go with her to find her dad. Road trip, anyone?
5000 Twitter followers are all the friends I need #thingsIthoughtweretrue
With Adam in the back seat, a hyper chatterbox named Amy behind the wheel, and plenty of Cheetos to fuel their trip, Morgan feels ready for anything. She's not expecting a flat tire, a missed ferry, a fake girlfriend…and that these two people she barely knew before the summer started will become the people she can't imagine living without
My Thoughts:
When I read the synopsis for this book, I knew I had to have it! It sounded like the perfect summer read & the synopsis reminded me of Amy and Roger's Epic Detour, which is one of my favorite books. I wanted to love it, even reading I thought I was going to love it, but sadly I ended up kind of  hating it. The more I thought about it after I finished, the more I disliked it.
 The synopsis makes the book sound, fun and carefree, but it's actually pretty depressing. Going into the book I obviously understood that it wasn't always going to be a sweet, fun read; I mean our main character is looking for her father that's bound to have some sad, emotional moments; I was expecting that. But how Janet Gurtler ended this book, was totally unexpected and depressing.
 To be completely honest the book was boring. There was just too much going on, Gurtler stuffed this book with so many side plots, I ultimately forgot what the book was actually about. One side plot which is basically what the book was based on, was so pointless and unnecessary I got frustrated listening about it.
 The characters in this book, were annoying and flat. Morgan was the most annoying character I have ever come across. She irritated me so much, it was constant whining and being twitter obsessed. Adam was as flat as a board and that's pretty much all I have to say about him. The only character that had depth was Amy, I enjoyed her immensely and if she wasn't in the book I would have stopped reading it. Amy was fun, enthusiastic, and honest.
 The way this book ended, is what really irritates me. I hate the end. In the last couple of chapters, Gurtler adds in yet another side plot. But this side plot was tragic, depressing, and it felt out of place. I felt like it was added In last minute, just for a means for Morgan to grow as a character.
Overall, this book was disjointed and a little confusing. Instead of following one plot, it was stuffed to the brim with pointless side plots. Majority of the characters lacked depth and personality, and the romance was mediocre and not the least bit believable.