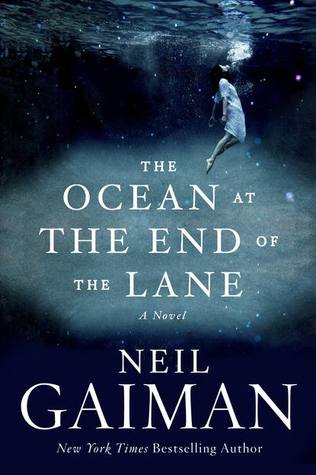 The Ocean at the End of the Lane
Neil Gaiman
Published June 18th 2013 by William Morrow Books
181 Pages
Goodreads | Amazon | Barnes & Nobles
Synopsis:
Sussex, England. A middle-aged man returns to his childhood home to attend a funeral. Although the house he lived in is long gone, he is drawn to the farm at the end of the road, where, when he was seven, he encountered a most remarkable girl, Lettie Hempstock, and her mother and grandmother. He hasn't thought of Lettie in decades, and yet as he sits by the pond (a pond that she'd claimed was an ocean) behind the ramshackle old farmhouse, the unremembered past comes flooding back. And it is a past too strange, too frightening, too dangerous to have happened to anyone, let alone a small boy.
Forty years earlier, a man committed suicide in a stolen car at this farm at the end of the road. Like a fuse on a firework, his death lit a touchpaper and resonated in unimaginable ways. The darkness was unleashed, something scary and thoroughly incomprehensible to a little boy. And Lettie—magical, comforting, wise beyond her years—promised to protect him, no matter what.
A groundbreaking work from a master, The Ocean at the End of the Lane is told with a rare understanding of all that makes us human, and shows the power of stories to reveal and shelter us from the darkness inside and out. It is a stirring, terrifying, and elegiac fable as delicate as a butterfly's wing and as menacing as a knife in the dark.
My Thoughts:
This book was, strange and bizarre, and often times quite horrifying to listen to. But it was one of the best books I've read this year.
I remember when this book came out, and all the hype that surrounded it, I remember being excited, reading the synopsis and immediately added to my TBR. But In the end I forgot about it, it got pushed to the side when I found more books to be excited about. It wasn't until I had started the audiobook that I realized I had no idea what this book was about. I didn't know what I was expecting but it certainly was not what Gaiman gave me.
Our main character who remains nameless, is back in his childhood town for a funeral when, he finds himself yet again on the Hempstock Farm a place he swears he hasn't been since he was seven. As he sits in front of the pond or what Lettie calls the Ocean, he remembers when he was seven and when Lettie promised to protect him. And That's all I can say without spoiling you.
While I loved this book, I had a couple of problems. I wish things were more explained, I still have so many questions that I will never get an answer for and that frustrates me.  Another thing that bothered me, which admittedly isn't that big of deal, is that our main character is nameless. I hate when that happens, because it feels like I can't connect to the character.  I also disliked that I couldn't listen to this book at night on account that I'm a scaredy cat; there is a scene that involves a worm, that was unbelievably horrifying to listen to. Other than those things, I was pretty satisfied with this book.
 Gaiman's writing was imaginative and memorizing, but also dark and terrifying. I personally would recommend getting the audiobook, Gaiman also narrates it and he does an amazing job at pulling the reader. I really have nothing more to say other than how amazing this book is!
I recommend this book to everyone, but if you have read and enjoyed the Graveyard Book by Neil Gaiman, I'm pretty sure you'll enjoy this on as well.
Favorite Quote:
Monsters come in all shapes and sizes. Some of them are things people are scared of. Some of them are things that look like things people used to be scared of a long time ago. Sometimes monsters are things people should be scared of, but they aren't.