This a weekly meme held on Tuesday's that was created by Should Be Reading
Here are the rules:
• Grab your current read
• Open to a random page
• Share two (2) "teaser" sentences from somewhere on that page
• BE CAREFUL NOT TO INCLUDE SPOILERS! (make sure that what you share doesn't give too much away! You don't want to ruin the book for others!)
• Share the title & author, too, so that other TT participants can add the book to their TBR Lists if they like your teasers!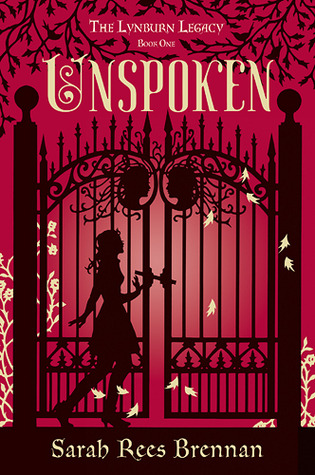 Kami Glass loves someone she's never met . . . a boy she's talked to in her head ever since she was born. She wasn't silent about her imaginary friend during her childhood, and is thus a bit of an outsider in her sleepy English town of Sorry-in-the-Vale. Still, Kami hasn't suffered too much from not fitting in. She has a best friend, runs the school newspaper, and is only occasionally caught talking to herself. Her life is in order, just the way she likes it, despite the voice in her head.
But all that changes when the Lynburns return.
The Lynburn family has owned the spectacular and sinister manor that overlooks Sorry-in-the-Vale for centuries. The mysterious twin sisters who abandoned their ancestral home a generation ago are back, along with their teenage sons, Jared and Ash, one of whom is eerily familiar to Kami. Kami is not one to shy away from the unknown—in fact, she's determined to find answers for all the questions Sorry-in-the-Vale is suddenly posing. Who is responsible for the bloody deeds in the depths of the woods? What is her own mother hiding? And now that her imaginary friend has become a real boy, does she still love him? Does she hate him? Can she trust him?
Teaser
"Hark," he said, his tone very dry. "What stone through yonder window breaks?"
Kami yelled up at him, "It is the east, and Juliet is a jerk!"
Jared abandoned Shakespeare and demanded, "What do you think you're doing?"
"Throwing a pebble," said Kami defensively. "Uh… and I'll pay for the window."
Jared vanished and Kami was ready to start shouting again, when he reemerged with the pebble clenched in his fist. "This isn't a pebble! This is a rock."
"It's possible that your behavior has inspired some negative feelings that caused me to pick a slightly overlarge pebble," Kami admitted."
Leave your TT Links below!