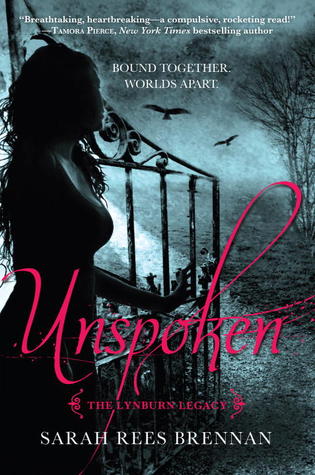 Unspoken
Sarah Rees Brennan
Published September 11th 2012 by Random House Books for Young Readers
370 Pages
Goodreads | Amazon | Barnes & Nobles
Synopsis:
Kami Glass loves someone she's never met . . . a boy she's talked to in her head ever since she was born. She wasn't silent about her imaginary friend during her childhood, and is thus a bit of an outsider in her sleepy English town of Sorry-in-the-Vale. Still, Kami hasn't suffered too much from not fitting in. She has a best friend, runs the school newspaper, and is only occasionally caught talking to herself. Her life is in order, just the way she likes it, despite the voice in her head.
But all that changes when the Lynburns return.
The Lynburn family has owned the spectacular and sinister manor that overlooks Sorry-in-the-Vale for centuries. The mysterious twin sisters who abandoned their ancestral home a generation ago are back, along with their teenage sons, Jared and Ash, one of whom is eerily familiar to Kami. Kami is not one to shy away from the unknown—in fact, she's determined to find answers for all the questions Sorry-in-the-Vale is suddenly posing. Who is responsible for the bloody deeds in the depths of the woods? What is her own mother hiding? And now that her imaginary friend has become a real boy, does she still love him? Does she hate him? Can she trust him? 
My Thoughts:
Unspoken is the first book that I've read by Sarah Rees Brennan, and it was fantastic! There are many reasons why I love this book so much but the main reason is undoubtedly my love/obsession with Kami Glass! Kami is everything I want in a main character, she is strong-willed, determined, and funny, she never backs down, and will doing absolutely anything to protect her family and friends.
I also thoroughly enjoyed the relationship she had with her friends, she is of course the ring leader, whether they liked it or not. They had to follow her around or else she would get into some serious trouble. Her relationship with Angela is something that I truly admired. Their relationship was so strong and Angela went along with Kami and all her crazy schemes because she trusted Kami wholeheartedly would never let her do something stupid without her. The family dynamic in this book also was so strong and relatable. Whether it's the Glass family or the Lynburn's it's still relatable.  Sarah Rees Brennan has a way of making each and every character feel like a main character, and I love it.
Now onto the enigmatic Lynburn family. To say the least they were weird and I wasn't the only one to think that, the whole town did too! I loved how Sarah just had me guessing what the Lynburns were, it was interesting to find out but in retrospect it's kind of predictable – but then again that's how all things are. I truly enjoyed getting tiny facts about this family throughout the book, and figuring out what about this family has the whole town afraid of them.
The only good Lynburn in my opinion was none other than Jared! *que fan girl squeals* he was perfect in every way. I mean he's a jerk like pretty much the whole book and then the end he made me want to cry but, I still loved him. No matter what he did I couldn't help but love him. Even when I wanted to punch him in the face I still loved him. His relationship with Kami in this book is loving and heartbreaking all in one. When one was reaching out, one was always pulling back. When one was building walls, the other was tearing them down. Their relationship is frustrating sometimes, but other times it's utter perfection.
Sarah Rees Brennan is an amazing writer! Her characters are amazing and diverse, the world she created is dark and interesting, and the story is infused with humor and sarcasm. Unspoken is a magical book that will make you Laugh and want to scream out of frustration, and keep you on the edge of your seat with anticipation. I have read this book twice, and I still laughed hysterically and still wanted to throw my book across the room, and my heart still broke over that ending even though I knew what was going to happen. So do yourself a favor and this book!
Favorite Quote:
"Whoever he is, I agree with your mother," said Dad as he entered the kitchen. "Stay away from him. Stay away from them all until you're of marrying age. Once you reach a nice, mature fifty-four, gentlemen callers will be welcomed here."