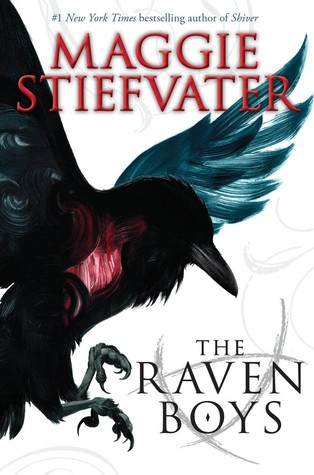 The Raven Boys
Maggie Stiefvater
Published September 18th 2012 by Scholastic Press
416 pages
Synopsis:
"There are only two reasons a non-seer would see a spirit on St. Mark's Eve," Neeve said. "Either you're his true love . . . or you killed him."
It is freezing in the churchyard, even before the dead arrive.
Every year, Blue Sargent stands next to her clairvoyant mother as the soon-to-be dead walk past. Blue herself never sees them—not until this year, when a boy emerges from the dark and speaks directly to her.
His name is Gansey, and Blue soon discovers that he is a rich student at Aglionby, the local private school. Blue has a policy of staying away from Aglionby boys. Known as Raven Boys, they can only mean trouble.
But Blue is drawn to Gansey, in a way she can't entirely explain. He has it all—family money, good looks, devoted friends—but he's looking for much more than that. He is on a quest that has encompassed three other Raven Boys: Adam, the scholarship student who resents all the privilege around him; Ronan, the fierce soul who ranges from anger to despair; and Noah, the taciturn watcher of the four, who notices many things but says very little.
For as long as she can remember, Blue has been warned that she will cause her true love to die. She never thought this would be a problem. But now, as her life becomes caught up in the strange and sinister world of the Raven Boys, she's not so sure anymore.
From Maggie Stiefvater, the bestselling and acclaimed author of the Shiver trilogy and The Scorpio Races, comes a spellbinding new series where the inevitability of death and the nature of love lead us to a place we've never been before.
My Thoughts:
This book was definitely a pleasant surprise. Maggie Stiefvater takes readers to the small town of Henrietta where we five very unique teenagers. In Henrietta we meet a boy from a place meant for leaving, a boy that no one really knows, a boy with no family, a boy searching for a king, and a girl that makes things loud.
When I started this book I was skeptical, mainly because my track record with Maggie Stiefvater has been less than spectacular. I didn't think I would like it when I started it, and it didn't immediately grab my attention I soon found myself moving on to other books and leaving this one to collect dust on my nightstand. One thing I have recognized with this book is that everybody has trouble with it in the beginning because it is very slow and filled with a lot of information, and the only thing I can say is to push through because once you do it's absolutely amazing and totally worth it.
Once I decided to give it another try I was extremely glad that I did. Everything about this book was perfect, from the writing to the characters and the lore behind it all. I found myself falling in love with the raven boys and Blue. They are all rich and vibrant characters and watching on their quest was so interesting and learning about the lore that was entwined with the plot was oh my God, just perfect!
Since I can't tell you a lot about the plot without completely ruining it I will tell about the characters and why I love them so much! First there is Noah, who just so happens to be my favorite character out of them all. Noah was such an enigma, he was quiet and not really noticeable often he fell to the background which somehow just made me love him more. When we find out more about the enigmatic Noah I just sat there staring at the page like how the heck did I miss that! I felt just like the characters when they found out, desperately trying to find out how they missed it also.
I loved everything about Adam. I thought he was perfect and I understood him better than any other character and I completely, absolutely understood why he made the choices he did and why he fought Gansey tooth nail, and why after everything that had happened he still missed his family.
I loved Blue because she in my opinion was the most entertaining character. You could never guess what she was going to do or say next and that's what I loved about her, the way she says whatever she wants, her style, and the way everything she does is loud. I loved that she mad Gansey think about everything he did and said. Blue is also so strong, she never backs down and she doesn't let fear keep her from doing something.
Gansey was something I didn't expect. The inter-workings of his mind had me yearning for his point of view, I loved when we found out why he was looking for Glendower, it felt like just a huge moment between him and Blue and I loved it. But there is one character that makes me yearn for book two, and that's Ronan. Oh, Ronan! when it came to him it was like watching intervention, his relationship with his family is destined for the stage of Oprah. Ronan was by far one of the most interesting characters of this book and if he doesn't have a point of view in book two I will be so mad especially after that damn ending!
In short this book is fantastic, one of my top ten, and recommended for all!