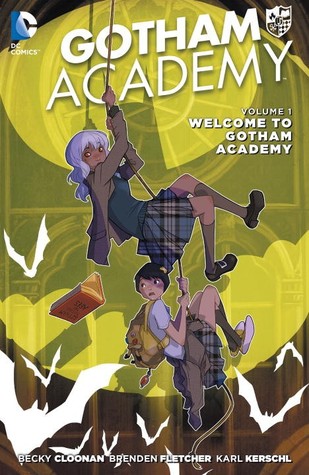 Gotham Academy, Vol. 1
Becky Cloonan, Brenden Fletcher, & Karl Kerschl
Published June 17th 2015 by DC Comics
160 Pages
ARC given by publisher in exchange of an honest review
Synopsis:
Gotham City's most prestigious prep school is a very weird place. It's got a spooky campus, oddball teachers, and rich benefactors always dropping by…like that weirdo Bruce Wayne. But nothing is as strange as the students!
Like, what's up with Olive Silverlock? Is she crazy or what? Where did she go last summer? And what's the deal with her creepy mom? And how come that Freshman Maps is always following her around? And is she still going out with Kyle? P.S. Did you hear the rumor about the ghost in the North Hall?!
Collects Gotham Academy #1-6
My Thoughts:
From the moment I heard about this book I've wanted it! For months this series had been an obsession of mine, just counting down the days until I could get it in my hands. So when I was approved for an Arc, God I almost passed out. Now even though I desperately wanted this, I was extremely worried that I wasn't going to like it or I was going to be disappointed. Well luckily for me, I wasn't  disappointed and I really liked it!
In the beginning it wasn't impressing me much but I pushed through and by the end I was intrigued and super excited to see where the series goes from here, especially after the last issue!
Gotham Academy follows Olive Silverlock who can't remember what happened over the summer. For Olive there is just a blank space where the summer should've been and when you add all of that to the mysterious things going on, it's clear to see that Olive is in store for a very interesting year at Gotham Academy.
Storyline: I really enjoyed the storyline, in the beginning it was a little slow and I found it hard to care about but eventually it picked up and really grabbed my attention. Unfortunately though it really didn't grab my attention until about issue 4, but I can easily look over that fact because 4-6 was just amazing and it intrigued and God, I need answers so many answers! One thing I loved wholeheartedly was the way Cloonan & Flecther combined flashbacks with present time, it was fantastic and a little trippy.  I can't go in depth with the storyline, I can't really tell you anything about the storyline without spoiling EVERYTHING. What I can say is that there is so much going on in this school and I can't wait to learn more about the secrets that lie within Gotham Academy.
Artwork: The artwork in this is so gorgeous! I absolutely loved how each character was drawn. My favorite characters look wise was Hammerhead and Mr. Scarlett, these two were drawn in such an eccentric, interesting, and beautiful way. Karl Kerschl artwork is definitely what makes this book so amazing. The team that did the colors in this did an amazing job as well. I loved how gloomy and dark the colors where, and then others times it was bright and vibrant it was just mind-blowing!
Characters: in this there are five significant characters: Olive, Maps, Kyle, Pomeline, and Colton. We really don't learn a lot about Kyle, Pomeline, or Colton in this trade but I'm truly looking forward to learning more about them. Though out of those three Colton is my favorite. Olive introduced him as the school liar, he is always getting in trouble, and an absolute whiz at picking locks,  so basically he's the epitome of Bad boy, but so far he seems completely loyal and I hope that doesn't change. By far my favorite character in the whole entire book is Mia "Maps" Mizoguchil. Maps has such a big and vibrant personality, personally for me she is what made me enjoy this book so  much. For Maps this is her first year at Gotham Academy and she only knows two people: Kyle, her brother and Olive. Maps is super smart, nerdy, protective, bold, fearless, and so sweet! Oh wow, I just realized that I'm like completely obsessed with Maps! Anyway, now on to the main character Olive Silverlock. I was a little bored with Olive in the beginning, she was a little mean to Maps, she was distant, and pushing people away. As the story continued I found that she was at times brave and fearless, but couldn't stand up for herself and even scared to do so. Though by the end she is a lot more assertive, open, and courageous. The more Olive progressed the more I enjoyed her character, there is a lot going on in that mind of Olive's and I can't wait to learn more. There's another character I completely forgot about, Tristan. Tristan is an enigma, we really only catch glimpses of him throughout the story until the end, which didn't give any answers just way more questions. I don't know how I feel about, but I'm looking forward to learning more about him.
Overall:
 I recommend this to anybody who is looking for light & fun read, but also has a mysterious and supernatural twist; which just so happens to have more than a couple glimpses of Batman. Truly, I recommend this book to everyone!
Thank you to Edelweiss and the publishers for giving me a digital copy to review.