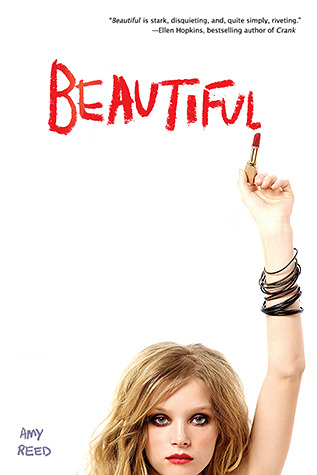 Beautiful
Amy Reed
Published October 6th 2009 by Simon Pulse
232 Pages
Synopsis:
When Cassie moves from the tiny town where she has always lived to a suburb of Seattle, she is determined to leave her boring, good-girl existence behind. This is Cassie's chance to stop being invisible and become the kind of girl who's worth noticing.
Stepping into her new identity turns out to be easier than Cassie could have ever imagined… one moment, one choice, changes everything.
Cassie's new existence both thrills and terrifies her. Swept into a world of illicit parties and social landmines, she sheds her virginity, embraces the numbness she feels from the drugs, and floats through it all, knowing that she is now called beautiful. She ignores the dangers of her fast-paced life… but she can't sidestep the secrets and the cruelty.
Cassie is trapped in a swift downward spiral tinged with violence and abuse, and no one—not even the one person she thought she could trust—can help her now.
My Thoughts: 
This review will be pretty short because I really don't have much opinions on it other than I didn't like it very much, but I still wanted to write this review because It's a book that I've wanted to read forever.
As I've said before I've wanted to read Beautiful for quit awhile, I've wanted to read this book since it came out in 2009 when I was thirteen. And coincidentally that is the same age as our main character, which was the first problem with the book. Giving the nature and description of the book I was expecting our MC to be older, so to open the book and to find out that she is 13 and in seventh grade was quite a shock.
Looking back I can honestly say this is a book that would've appealed to 13 year old Sam, when I was as naïve as our main character, but at 20 I hate this book. I would not have picked this book up if I knew beforehand that the MC was only thirteen, I definitely, ABSOLUTELY WOULD NOT HAVE picked this book up if I knew there was sex scenes. The sex in this book was awkward and painful to read, and just so damn sad!
I hated everything about this book, which is rare and I feel bad to even say that. Like I said I've wanted to read this book for years and it's just horrible. There is no redeeming factor. It's a downward spiral, with every page detailing a new drug she is abusing, having sex with someone for status, even declaring herself as his "bitch", talking about running away and becoming prostitutes, skinning cats, sexual abuse, moving to Israel to raise goats and to live in yurts.
But all that being sad, I'm not stupid. I know that there are children going through things similar to the Cassie, I know that. So on one hand I commend Amy Reed for exploring a side of addiction and abuse that is not often shown. But at the same time this book did nothing to impress me or show any redeeming qualities. The characters where flat, uninspiring, mean, disgusting, and just sad. The quality of writing was poor, bland, and often quite boring.
I would recommend this book to people only to hear their opinion on this, because there are so many people on goodreads who seemingly love this and I just don't see it; but would be totally interested to hear what others think of this.