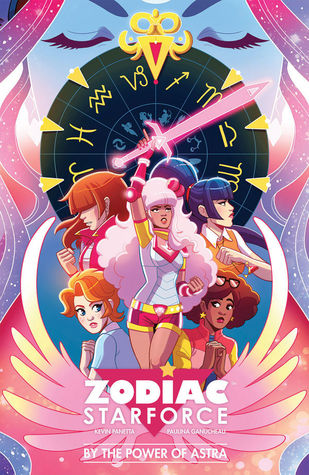 Kevin Panetta & Paulina Ganucheau
Paperback, 136 pages
Published March 9th 2016 by Dark Horse Books
Synopsis:
They're an elite group of teenage girls with magical powers who have sworn to protect our planet against dark creatures . . . as long as they can get out of class! Known as the Zodiac Starforce, these high-school girls aren't just combating math tests. They're also battling monsters–not your typical afterschool activity! But when an evil force from another dimension infects team leader Emma, she must work with her team of magically powered friends to save herself–and the world–from the evil Diana and her mean-girl minions!
From Kevin Panetta (Bravest Warriors) and Paulina Ganucheau (TMNT: New Animated Adventures, Bravest Warriors), this super-fun and heartfelt story of growing up and friendship–with plenty of magical-girl fighting action–delivers the most exciting new ensemble cast in comics!
Collects Zodiac Starforce #1-#4
My Thoughts:
The more I think about it, the more I like it.
I think this book was natural, relatable, and realistic. The problem that I usually have with YA is that the teenagers are unrealistic, but that's not a problem Starforce has. Though it did have a small case of insta-love I didn't mind it because it was super cheesy and cute and I adored it.
ITS DIVERSE! There are LGBTQ characters, and the characters are drawn realistically and are all different shapes and sizes.
I loved there costumes, and the clothes. Also, BIG HAIR, DON'T CARE
The artwork was gorgeous, bright, and colorful.
The plot wasn't the most spectacular, but the groundwork is set and I can't wait to see where the story goes next. I just wish the characters were more fleshed out, especially Diana. There is so much
Lily, Kim, & Molly are my fav.
If there was a Scorpio, I would give this a five!
Panel sample: