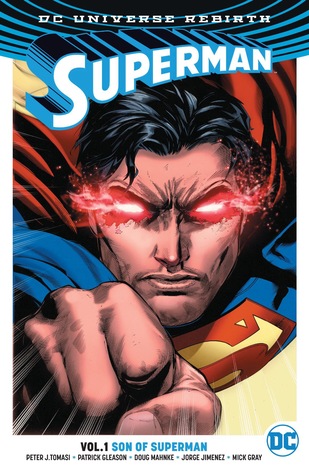 Peter J. Tomasi & Patrick Gleason
Paperback, First, 176 pages
Published January 4th 2017 by DC Comics
My Rating: 1 of 5 stars
Received from publisher in exchange of an honest review.
Synopsis:
After the stunning events of DC Universe: Rebirth, the world is left without Superman! Luckily, there is another Man of Steel to fill his shoes: the pre-Flashpoint Kal-El! However, can this new Superman protect the world while raising a super-son with his wife, Lois Lane? And should they help their boy use his new and rapidly increasing abilities, or hide them from the world?
Along with all-star illustrators Doug Mahnke (Final Crisis) and Patrick Gleason (Robin: Son of Batman), best-selling author Peter J. Tomasi brings you Superman, Volume 1: Son of Superman!
Collecting: Superman 1-6, Rebirth
My Thoughts:
I went into this trade blind. I knew absolutely nothing. With the universe being rebooted, I thought this would be a good time to jump on board.
After a little background that i found a little bit confusing (probably because I didn't read the previous run) we jump right into the storyline following Superman, Lois, and Jon as they navigate through life on the farm and Jon's developing powers. I found the family dynamic really cute, and something I really wasn't expecting. It was actually pretty relatable, and very realistic which I actually enjoyed. It was really sweet Clark, Lois, and Jon interact.
The problem I had with this trade was that the plot was forgettable. Honestly, probably won't even remember what it was about next week. It was forgettable, flat, and frankly uninteresting. It was action packed but, I just didn't care. I kept checking my progress because I just wanted it to be over.
One thing I really did like in this trade was Lois. I typically don't like Lois, but this one was kickass! Don't mess with the baby bear, when mama bear is around!
Also, the Hellbat suit? Freaking AWESOME!
Also, the artwork was fantastic and colorful. It went perfectly with the storyline.
It's sweet and packed with action, but it just wasn't for me. I would still recommend to anyone who is a Superman fan, it's an interesting transition worth checking out. Though I wasn't a fan of this trade, I'm still interested to how this plays out.