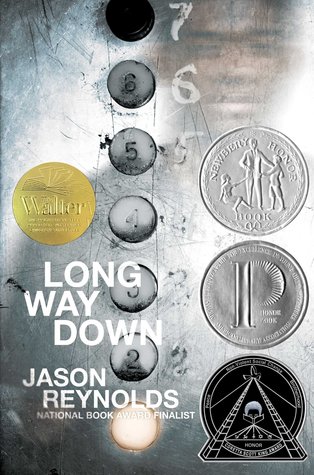 Synopsis
A cannon. A strap.
A piece. A biscuit.
A burner. A heater.
A chopper. A gat.
A hammer
A tool
for RULE
Or, you can call it a gun. That's what fifteen-year-old Will has shoved in the back waistband of his jeans. See, his brother Shawn was just murdered. And Will knows the rules. No crying. No snitching. Revenge. That's where Will's now heading, with that gun shoved in the back waistband of his jeans, the gun that was his brother's gun. He gets on the elevator, seventh floor, stoked. He knows who he's after. Or does he? As the elevator stops on the sixth floor, on comes Buck. Buck, Will finds out, is who gave Shawn the gun before Will took the gun. Buck tells Will to check that the gun is even loaded. And that's when Will sees that one bullet is missing. And the only one who could have fired Shawn's gun was Shawn. Huh. Will didn't know that Shawn had ever actually USED his gun. Bigger huh. BUCK IS DEAD. But Buck's in the elevator? Just as Will's trying to think this through, the door to the next floor opens. A teenage girl gets on, waves away the smoke from Dead Buck's cigarette. Will doesn't know her, but she knew him. Knew. When they were eight. And stray bullets had cut through the playground, and Will had tried to cover her, but she was hit anyway, and so what she wants to know, on that fifth floor elevator stop, is, what if Will, Will with the gun shoved in the back waistband of his jeans, MISSES.
And so it goes, the whole long way down, as the elevator stops on each floor, and at each stop someone connected to his brother gets on to give Will a piece to a bigger story than the one he thinks he knows. A story that might never know an END…if WILL gets off that elevator.
Told in short, fierce staccato narrative verse, Long Way Down is a fast and furious, dazzlingly brilliant look at teenage gun violence, as could only be told by Jason Reynolds.
My Thoughts
Long Way Down, follows Will and his pursuit for revenge. You see, the night before Will's big brother was shot to death. Shawn was Will's role model, the one person he looked up to the most in the world. After their father was murdered when they were young, it was up to Shawn to teach Will the way of the world. He taught Will the rules, and rules should always be followed. And that's what Will intends to do when he steps foot on the elevator, he's going to follow the rules and he's going to get revenge for Shawn.
The book takes place on the elevator, in only just 60 seconds. Will just wants to follow the rules, he has to follow the rules. But at every stop, someone connected to not only his big brother but to him as well enters the elevator. Once they enter the elevator they tell, their story, and through those stories, he learns about his brother, Shawn.
It's honestly so hard for me the write this review, this book messed me up more than A Mercy by Toni Morrison. When I finished this book I was a complete and utter mess. Jason Reynolds broke my heart a million times.
The book is set in an elevator, told over a period of 60 seconds! The story that Reynolds crafted is the story of children all over the world, and the violence and the loss that they have to deal with. It harrowing and heartbreaking, and so damn sad that somebody in the world right now could be Will, could be Shawn.
I loved that the characters that entered at every stop because they had a story to tell and it was important, and necessary for Will to hear it and to understand. I truly can't even put into words how heartbreaking these stories were. I felt for Will because he wanted to get off the elevator and away from these people, he was uncomfortable and sad, and so was I.
The book is told entirely in verse, and it's truly a quick read, I was able to finish it in an hour. Within only a few pages, Reynolds with his vivid and gripping writing was able to bring me to tears, the pain he described was visceral it was breathtaking. And the writing remains this visceral, to pulls you in and he holds you down until you get to the last page. And then the ending haunts you.