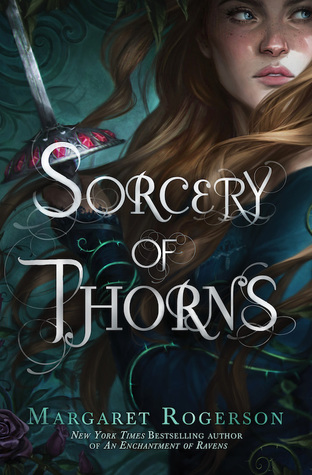 Synopsis
All sorcerers are evil. Elisabeth has known that as long as she has known anything. Raised as a foundling in one of Austermeer's Great Libraries, Elisabeth has grown up among the tools of sorcery—magical grimoires that whisper on shelves and rattle beneath iron chains. If provoked, they transform into grotesque monsters of ink and leather. She hopes to become a warden, charged with protecting the kingdom from their power.
Then an act of sabotage releases the library's most dangerous grimoire. Elisabeth's desperate intervention implicates her in the crime, and she is torn from her home to face justice in the capital. With no one to turn to but her sworn enemy, the sorcerer Nathaniel Thorn, and his mysterious demonic servant, she finds herself entangled in a centuries-old conspiracy. Not only could the Great Libraries go up in flames, but the world along with them.
As her alliance with Nathaniel grows stronger, Elisabeth starts to question everything she's been taught—about sorcerers, about the libraries she loves, even about herself. For Elisabeth has a power she has never guessed, and a future she could never have imagined.
My Thoughts
"What is the point of life if you don't believe in anything?"
By far the best book I've read this year, so far!
The writing Is beautiful, immersive, and very detailed. The Worldbuilding is vivid and interesting, throughout the story Rogerson kept me guessing and wanting to know more. Within ten chapters I had a lot of theories and a suspect list. There was also, so many great scenes that I just freaking loved! The fights scenes were great, the description of the grimoires, and flashbacks. I could go on and on about how beautiful everything in this book was! This book has become the most heavily annotated book that I own, there was just some much that I loved and wanted to remember.
I loved the characters so much! They were lively and so entertaining that I found myself instantly attached to them. Elisabeth is 16 years old, and an orphan who was raised in the Great Library. She has an affinity for the Grimoires, she has a better understanding of them and can get them to open up to her. She dreams of being a warden, those who protect the Library and the Grimoires. And more than that she wants to belong. She is smart and slightly mischievous, though she tries her hardest not to be, trouble just has a way at finding her.
Nathaniel Thorn is just a couple years older than Elisabeth and is a Sorcerer. He is sarcastic and takes great joy in teasing Elisabeth, whether she knows it or not. He tends to keep things close to the chest, and only trusts one person, Silas. He is what I call, emotionally compromised. He has trouble expressing emotions and is great at pushing people away and ignoring his feelings. Which means I fell in love with him instantly. Silas is Nathaniel's companion, and the relationship between them is very, very complicated. But nobody in the world knows Nathaniel better than Silas.
Also, an aspect that I loved about this book was that Elisabeth was a biased narrator. Elisabeth has spent her whole entire life in the Great Library, surrounded by the Grimoires, and dreaming of the day that she would one day be a Warden. Her whole entire world is contained in the library and any thoughts she has about magic and sorcerers has been influenced by what she's been taught by the Wardens. It was fun listening as she described her world and all that she knew, but seeing as she learned that there was more to what she has been told and seeing her have these new experiences was so much fun.
One Of my favorite aspects of this book that I absolutely adored was that Rogerson is so good at conveying relationships. They are so strong, even the ones that are crafted in just moments. I really don't know how to truly explain it. Within moments of meeting of Katrien, I could tell the relationship between her and Elisabeth was rock solid and something that they both cherished, and as the chapters went on and it was proven time and time again. The relationship between these two girls was beautiful, and it warmed my heart. All the relationships in this book whether platonic or romantic are equally as strong and heartwarming.
Overall, I recommend this book to everyone. If you like detailed world building, with a lush and whimsical setting, filled with great characters and an enticing slow burn romance than this is the book for you!
---
ARC provided by Simon & Schuster in exchange for an honest review.