The idea for this meme is to think back to memorable books from our childhood and to tell us why you loved them and you can even review them now.
If you would like to add your TT, please leave us a comment with your link and we will head on over to your blog and check it out!
Sam's Throwback Thursday!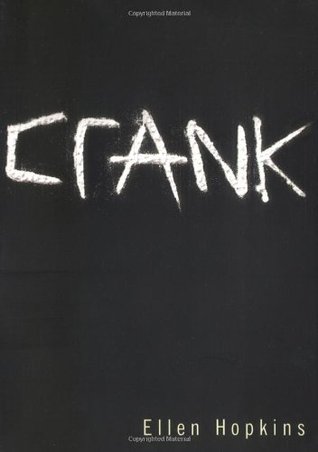 Crank
Ellen Hopkins
Published October 1st 2004 by Margaret K. McElderry Books 
537 Pages
In Crank, Ellen Hopkins chronicles the turbulent and often disturbing relationship between Kristina, a character based on her own daughter, and the "monster," the highly addictive drug crystal meth, or "crank." Kristina is introduced to the drug while visiting her largely absent and ne'er-do-well father. While under the influence of the monster, Kristina discovers her sexy alter-ego, Bree: "there is no perfect daughter, / no gifted high school junior, / no Kristina Georgia Snow. / There is only Bree." Bree will do all the things good girl Kristina won't, including attracting the attention of dangerous boys who can provide her with a steady flow of crank.
I read Crank when I was thirteen, and I absolutely loved it! I loved reading when I was younger, but then I stopped reading in about third grade. I have no Idea why, it was just one day I loved reading and the next I hated it. Throughout the years between 3rd grade and the beginning of High School, I read maybe 10 books that I wasn't forced to read.
It wasn't until my first week of high school, and my English teacher brought my class to the library to pick out some books; and the first book I saw was Crank. The cover of Crank instantly intrigued me and when I opened it and saw that it was written verse it made me want to read it even more. I remember going home and reading it all night until I fell asleep, and for days after I would spend any free time I had reading this book until I finally finished it. It was the first book I had read in a very long time that I could honestly say I loved and it rekindled my love for reading. Looking back though, I definitely would not recommend this book to anyone younger than at least 17.
What is your Throwback Thursday?